By: Kelly Merydith
March 9, 2018
Ahimsa began as an idea that popped into my head my senior year of college at Northeastern University in Boston. I attribute that happening to a decision I made the previous night – to let go of a guy that was no good for me. Ahh…. the power of letting go to make space for new things!
Once the idea was there, I couldn't shake it. I was determined to open a yoga studio in my hometown of Oak Park, IL. Yoga had come into my life during high school, but it was in college when I really fell in love with it. I knew that this is what I needed to cope with the anxiety that I often experienced.
After college, I went to Santa Monica, California to obtain my yoga certification from YogaWorks. Less than a year later, Ahimsa was opened at 441 South Boulevard.
The many people who helped me open the studio had no clue they would be so influenced by yoga and would be working for Ahimsa someday.
My dad, Chuck Merydith, was job hunting in public relations and he took a month off to help me turn the space into a yoga studio. Years of remodeling homes with my mom made my dad the foreman of this endeavor. I could not have opened this studio without his help. Once we were open, he was my biggest cheerleader. He came to yoga every day, and in the process, fell in love with the practice. He got "the yoga bug." Something clicked and he knew, like many yoga practitioners, that yoga needed to be in his life. He also realized that he wanted to "help me out" by becoming a yoga instructor himself. And so, after a few months of a daily practice (I'd been giving him private lessons since the previous summer so I could practice teach), he was off to LA to take a summer intensive teacher training with YogaWorks in Pacific Palisades.  Conveniently, the training was just down the hill from his sister's home!
Since then, Chuck has been teaching at Ahimsa and also manages the Oak Park studio. He has found his calling and is so grateful to be able to share yoga with so many people.
Also on the scene was my buddy from 6th grade, Masin Ouksel. Masin discovered yoga in college, so after we left college, he was student #2 (after my dad). He was always such a supportive friend and also helped with getting the space ready when he had time (his parents basement flooded that April, so he was dealing with that a lot).
A few years later, Masin was working at Peoples Gas in Chicago and not loving the 9-5 computer screen life (although ironically we now work at a computer screen a lot). He saw the joy Ahimsa brought me and wanted to open a 2nd studio with me. We chose Berwyn because it's close to Oak Park and we wanted to provide an underserved community with their first yoga studio. We could not have been happier to open that studio in September of 2015.
My mom, Carol Buer, was also on the scene, helping nights and weekends after working full time days as the hospital Vice President at Saint Joseph Hospital in Lincoln Park. I believe that she could have been a painter in another life. Below is Carol and her sister Barbara.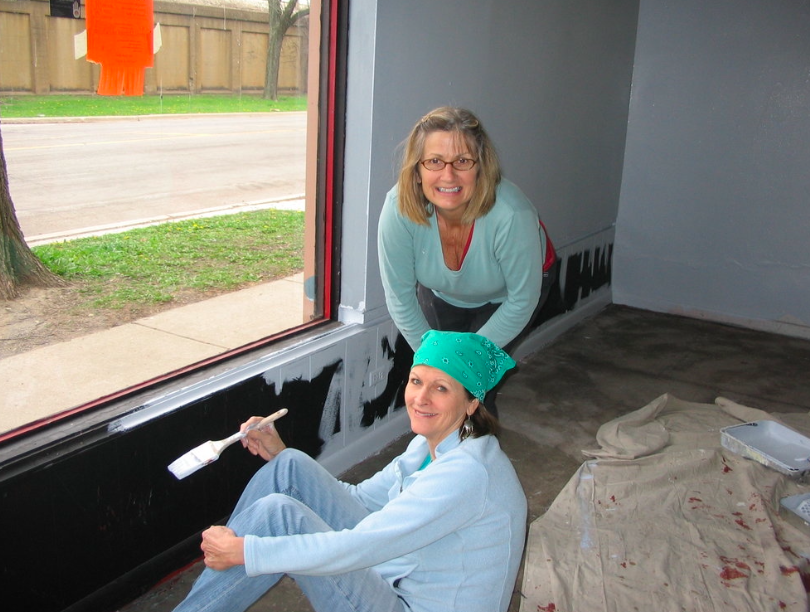 My mom worked so hard throughout her whole career. She worked her way from Occupational Therapist to Vice President. After 22 years, she was downsized and given a year of severance. A year later she was back at another job and back to being stressed out again. Her health was becoming affected by the stress. By that time, Masin and I had opened a yoga studio in Berwyn. We told my mom that we needed her help with a few tasks. Once she was trained on a few things, she took off like a rocket ship – finding more and more ways for us to improve. She now is the manager of Customer Care and Workstudy, responding to student inquiries and building our team of 55 "shift managers" – the helpful people behind the desk.  Carol found that she loves making a difference by making sure people feel recognized and appreciated. I could not have imagined that we would be here today.
I cannot finish writing this blog post without mentioning our incredible workshop coordinator Christiane Broihier, who also did social media until about 6 months ago. We would not be able to host so many workshops without Christiane. She is so organized, resilient, responsible, funny, practical and reliable. We are so grateful to have her on the team. She is a regular student at the Oak Park studio and lives in Oak Park with her husband, 2 sons, and fur baby.
My sister, Ashley Harrington, is also a part of the team. I don't know how we got so lucky! Ashley lives in North Carolina with her husband, Will, and son, Rhett (born May 1, 2017). Ashley has been on one of our Belize yoga retreats, and is also a student whenever she's in town. She practices regularly at a studio near her home in Charlotte. Ashley is a mini Carol – a detail oriented hard worker. I wake up (on the West Coast) to text messages notifying me of capitalization errors and typos on Ahimsa's website. Ashley and I work together almost daily on modifying emails and processes to give the students the best experience possible.
In June of 2016, Masin and I purchased Blissed Out Yoga in Elmhurst and in June of 2017 we opened Ahimsa Yoga Studio in La Grange. The latest addition occurred In December of 2017 when we purchased Elmhurst Yoga Shala at 506 Spring Road. Although we have had rapid growth in the past few years, we are still in the early phases of these businesses. We work tirelessly to improve them and make them special places where people can find peace and self love through yoga.  
Below are some photos of the studios "before". I hope you enjoy!
Kelly Merydith