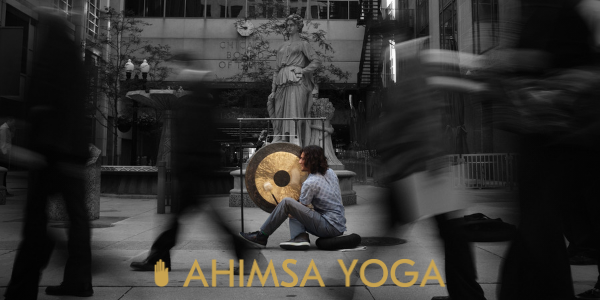 Set your clocks forward on Sunday!
Dear Students,
Our spring cleaning has included both our yoga and sound healing school's website – please visit them soon to see a fresh look! Click here: ahimsayogastudios.com or here: ahimsaschoolofsoundhealing.com.
Virtual Info Sessions for TEACHER TRAINING
We are holding several virtual information sessions so you can learn more about our summer training program. Visit ahimsayogastudios.com/teachertraining and read about the training. Scroll to the bottom to get the dates for the info sessions and to register. The next session is this Friday at 6pm with Kelly. and Caitlin will hold a session next Monday at 5:30pm. Join us even if you are just curious!
Summer Retreats at Soul Farm
As excited we are for spring to arrive, we are even more excited for summer because it means outdoor yoga! This year, we are planning a monthly retreat to soulfarmretreats.com, a wonderful farm owned by yoga teacher/friend Judi Harvin in western IL. Far enough (from Chicago) for a getaway but close enough for a one-night trip. See all the details on our website: ahimsayogastudios.com/illinois-farm-retreats-2021. If you are ready to book (the limited spots sell quickly), email Christiane at ahimsayogaevents@gmail.com.
Namaste,
Kelly & Masin
Click to sign up for a teacher training info session!
Special Events and Workshops this weekend!
Surrender to Sound (Virtual)
with Caitlin Coan
Sun: Mar 14 From: 8:00 PM – 9:00 PM
Location: on Zoom

Participants experience a deeper state of not only relaxation but awareness. Know that you have the ability to connect and awaken your own inner healer. Through the ebb and flow of life, we are constantly working through emotions or challenges, it is said that when you work with the quartz crystal singing bowls – things seem to accelerate. Crystal singing bowls are one of the most powerful chakra balancing tools available because of this.
The vibrational frequencies of the bowls resonate with the physical body, harmonizing of the heart, and the mind.
All levels are welcome.
$20/$15 members
Click for more info & to register